Mold System Components
Today, isothermal precision glass molding is a well-established advanced production technology for complex optical components in volume applications. It is applied worldwide by numerous companies to manufacture sophisticated optics with special features and properties. The process chain for precision glass molding is challenging, especially the use of ultra-precise mold systems that need to withstand temperatures of up to 800°C.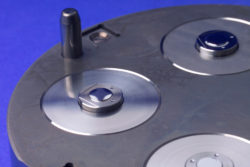 By the merger with AIXTOOLING GmbH in 2019 INGENERIC increased their experience, knowledge and appropriate production resources for molds and mold systems. Experts for mold design and manufacturing as well as development, qualification and prototyping are available for your specific molding task. Further, INGENERIC has long-term experience in the ultra-precision machining of advanced hard, brittle materials that are widely applied for the relevant mold components. We are able to machine complex optical mold surfaces with accuracies in the deep sub-micrometer range. These surfaces are machined defect-free to mirror quality with roughness values down to 1 nm Ra.

Based on that knowledge INGENERIC can manufacture molded optics with highest accuracy, geometrical flexibility and reproducibility. In addition, INGENERIC supplies mold inserts (PVD-coated/uncoated) in optical quality, but also mold dies, cooling plates, guide pins, screws, bolts, spacer discs and other mold system components. All parts are dedicated for application in isothermal molding machines.

Please do not hesitate to contact our sales team should you have any other interests in INGENERIC mold system know-how.