High-precision Aspheres and Spheres
The use of aspheres offers substantial advantages: Minimization of aberrations, increased efficiency, and a reduction in the optical elements and weight of the optical system. Today, INGENERIC precision molded aspheres are operated in various imaging applications. The demand for these sophisticated products is rising in growing markets like medical technologies (endoscopy, ophthalmics), sensor technology, automotive or consumer optics.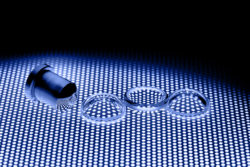 With its unique molding technique, INGENERIC combines cost effectiveness with highest serial precision. Molded glass optics can be structured/curved on one or both sides with a large degree of geometrical freedom and a customizable lateral contour. The lateral dimensions of INGENERIC aspheres range from 2.0 mm to 30.0 mm. Structures in the sub-millimeter range are feasible. Aspherical optical surfaces can be concave or convex, with steep angles and numerical apertures up to 0.8.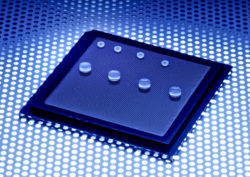 INGENERIC aspheres can be molded to their final precision round shape, almost ready for the assembly process without any post-machining. This includes both optical surfaces as well as mounting surfaces such as a precise outer diameter. Post-machining steps such as center-grinding can be applied if specific features are required.
For aspherical optics INGENERIC covers the entire process chain – from optics design to optical assembly. We have long-term experience in mold design, mold system manufacturing and precision glass molding. Our technology has capabilities for process qualification, prototyping, and is scalable for volume production.
In serial production INGENERIC applies either multi-cavity molding (for round designs) or wafer-level molding (for rectangular designs). Both advanced approaches are applied in numerous applications. Please
contact our sales team
to discuss the pros and cons of each option.
Good to know
The glass type is essential for the optical performance but also influences the moldability. INGENERIC offers molded aspheres from several glass types and different suppliers. We recommend a number of specific glass types with a well-known molding behavior and excellent optical properties. However, our technology is feasible for a large variety of glass materials right across the Abbe diagram. We have opportunities for fast glass material qualification, testing and prototyping. Please do not hesitate to discuss this issue with our optical design team.
Please note, that we are also able to add and replicate microstructures, ID codes, reference marks, etc. For this purpose we apply sophisticated UKP laser technologies for microstructuring of mold surfaces. Please ask for these options.
Advantages
superior image quality
freedom of design
free form surfaces
integrated alignment features
highest level of precision and uniformity
volume production
highest serial reproducibility
advantageous price-performance ratio
Quality
INGENERIC provides substantial quality assurance throughout the manufacturing process. Every step is logged, from the incoming component inspection to the precise final control of each processed item. If required, a customized test set-up can be realized to ensure that there is no deviation from the measured characteristics when the optic is subsequently used in industrial practice.