Quality – Made in Germany
We operate a strict quality control policy. INGENERIC's products are characterized in terms of their own specific properties, which determine the exact function. INGENERIC solely manufactures its micro-optics in high-refractive index glass and is equipped with state-of-the-art metrology devices complying industrial practice.
By measuring along the beam path, we ensure that there are no deviations from the values specified, when the optics are subsequently used in their intended application. Our measuring strategy in conjunction with our highly reliable manufacturing technology and assembly techniques enable us to guarantee that our customers will receive perfect optics with outstanding characteristics.
Quality Management according to DIN ISO 9001:2015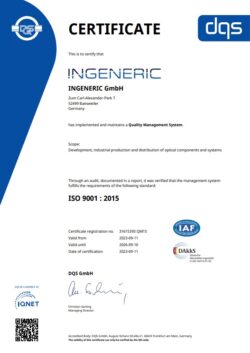 Reasonable working processes in all departments provide the base for product quality. A quality management system defines responsibilities for quality relevant activities and binding procedures. With a permanently maintained database and continuous improvement processes, INGENERIC ensures reliablity to its customers. We routinely process supplier inquiries by our customers and demonstrate our quality promise. Our ongoing commitment to the highest standards of quality, efficiency and customer satisfaction is regularly audited and certified against the latest quality management standards in accordance with DIN ISO 9001:2015.
Energy Management according to DIN EN ISO 50001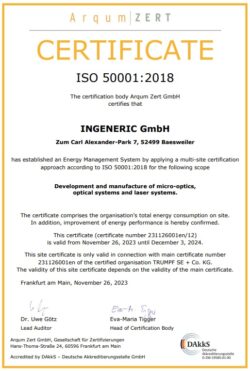 Since 2016 INGENERIC has implemented an energy management system according to DIN EN ISO 50001 in the scope of development and manufacture of micro-optics, optical systems, and laser systems. Acknowledging our economic and ecological responsibility is part of our company philosophy. A systematic energy management will improve transparency, allows for a sound energy controlling and detects possible savings. Alongside the economic benefits – also for our customers – we thus contribute to resource preservation and the protection of our environment.
Competences
INGENERIC's core competence is the development and production of high-precision micro-optics and lens arrays manufactured using the so-called "precision molding" process. By combining an extensive product portfolio with innovative manufacturing technology, we have become one of the world's leading manufacturers in the optics industry in recent years. INGENERIC offers reliable and comprehensive expertise for the development and implementation of intelligent optical solutions. We see ourselves as a development partner for our customers – always with the goal of bringing about the best possible optical solution for every challenge.
Our technologies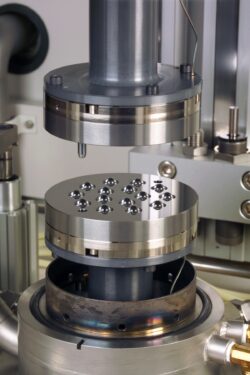 We have extensive experience and expertise in a wide range of technologies, extending from ultra-precision machining and micro-structuring to ultra-precision glass molding for mass production environments.
Based on our broad technology portfolio we are capable of offering flexible solutions in many aspects. For our customers we process different materials and flexible geometries, we offer customized assembly, we manufacture beneficial prototype, small series or mass production quantities – to mention but a few and all of this in high-precision-standard.