Company Profile
INGENERIC was established in 2001. The company counts around 100 employees as their trusted key for success.
Headquarters and production site are located in Baesweiler, Germany within the high-technology region Aachen. INGENERIC develops and manufactures precise micro-optics and optical systems for a large variety of applications and markets.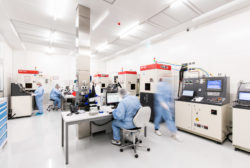 For its worldwide customer base INGENERIC offers the complete process chain starting from lens and system design over prototyping and practical evaluation up to large series manufacture.
A major step for INGENERIC was the acquisition of Aixtooling in 2019. With its expertise in precision glass molding and mold manufacturing it perfectly complements INGENERIC's competencies. Also in 2019, INGENERIC has moved from the city of Aachen to its own new production site in Baesweiler – now with significantly expanded capacities which make the company ready for further growth.
Industry Solutions
Always ready to explore new potentials, the company exploits its advantages in several fields.
Optical Components used in Diode Lasers
Micro-optics are key elements in the function of high-power diode lasers and are vital to their efficiency. INGENERIC manufactures refractive micro-optics, beam transformation optics, lens arrays, and aspheres either as standard optics or as a customer specific solution. The company uses high-quality glass materials, meets most exacting precision-related specifications in serial production, and manufactures in line with continuously optimized engineering designs.
Bright Performance in Datacom Applications
INGENERIC with its unique technology profile has advanced to one of the leading suppliers in optical components of highest precision and reproducibility, solely developed and manufactured in Germany. Latest performances are micro-lens arrays for beam shaping with best optical performance as needed to be valued in optical data transmission.
Medical Photonics
In minimally invasive surgery, special specifications such as biocompatibility are required. With solutions competence for challenging demands and reliable availability, INGENERIC offers micro aspheres and freeform optics for medical and ophtalmic applications. Even complex micro-optics in volume production can be manufactured – in clean environment.
Our philosophy
Our mission is to provide the best solutions for our customers.
We naturally strive for technological leadership and innovation.
We believe in a longstanding, successful and confidential collaboration with our customers.
We operate a strict quality control policy.
We regard our competent and highly motivated employees as the key to a long-term successful company.
We believe in a sustainable development by taking care of our economic, environmental and social responsibility.