Our impressions of SPIE Photonics West 2023!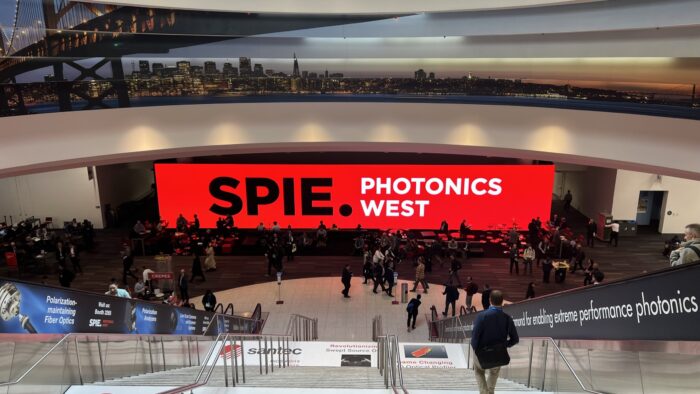 At the beginning of February the world's leading trade fair for photonic technologies took place again at
The Moscone Center in San Francisco: Over three days, SPIE Photonics West offered more than 22,000 registered trade fair visitors a complete market overview of everything that currently moves the Optics & Photonics industry and will shape it in the future. As an international supplier of optical components for high-power applications as well as micro-optical systems, we were on site with our management, our sales team and our own booth after a three-year break – and used the past few days to review our positive impressions of the trade show.
In personal dialog with the numerous visitors, we encountered a lot of interest and immediately sensed that the global demand for microlenses, microlens arrays and aspheres in laser and medical technology, optical data communication and other future technologies is continuously increasing. Automotive manufacturers, machine builders, life sciences companies or manufacturers of medical devices continue to rely on customized optical solutions that require a high level of know-how and quality awareness.
Through this exchange and the extensive supporting program, we were able to identify two important trend technologies of the Optics & Photonics industry as focal points, for example:
– LIDAR is a (future) key technology in the automotive, mobility and industrial automation markets. Light Detection and Raging (short: LIDAR) is a popular remote sensing method that employs light in the form of a pulsed laser to detect and categorize objects. LIDAR sensors generate precise, 3-dimensional information about the shape of surrounding objects and their surface characteristics. This can provide increased safety and efficiency, especially in complex environments such as road traffic or automated industrial applications. High-precision, temperature-stable micro-optics from INGENERIC are an excellent fit for the high demands made by innovative LIDAR applications today.
– In VR (Virtual Reality) and AR (Augmented Reality), manufacturers are looking for new types of optical and photonic technologies that take the systems to a new level and provide their users with greater visual comfort for longer use and achieve a better sense of display immersion. INGENERIC can also successfully contribute its manufacturing technologies for the mostly miniaturized optical systems required in new VR/AR applications to economically produce glass micro-optics in large quantities.
With our deep understanding of replicative glass optics manufacturing – from in-house ultra-precision tooling to glass forming – we can provide excellent support for these promising technologies. Our offerings range from single aspheres to complex free-form optics to various customized MLAs (Micro Lens Arrays) with numerous design options and highest precision.
Our conclusion after three interesting days at Photonics West 2023:
This year's trade show appearance was a complete success for INGENERIC! Once again, we were able to position ourselves as a leading international supplier of micro-optics and micro-optical systems made of glass for high-precision applications. With our extensive expertise and many years of competence in the development and production of intelligent optical solutions, we are at the cutting edge of the industry and are able to serve the most individual customer requests – this was clearly demonstrated by the trade fair. We look forward to continuing the conversations we started at the booth to provide our customers with the best optical solution!