INGENERIC at the CIOE 2018
Aachen, Oct 15, 2018. INGENERIC's first time exhibition presence at the CIOE 2018.
---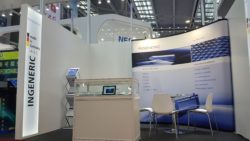 Again we expanded our exhibitor portfolio. This year, we initially visited the China International Optoelectronic Exhibition (CIOE) in Shenzhen, China. Thus, we were one of 1831 exhibitors, who presented their products and services at an exhibition area of 110,000 m². More than 68,000 professional visitors found their way to the CIOE. Exhibiting in this for us unknown terrain was a full success. We were happy to notice a strong stream of visitors at our booth and were able to establish many new contacts. We were once again faced with a keen interest in our
Microlens arrays
and we are looking forward to the exciting projects ahead. With the CIOE in Shenzhen, a successful exhibition year 2018 is coming to an end for us. We have been present as an exhibitor at 6 events, where we were able to converse with numerous business partners, customers and potential customers. We are now looking forward to a likewise active year 2019. With this in mind we would like to kindly thank everyone, who found their way to our booth and who contributed to this success.