Company holidays: INGENERIC remains closed from 23.-31.12.2019
2019 was a special year: Our company merged with Aixtooling GmbH and moved to a modern location in Baesweiler to present itself united as the strengthened INGENERIC GmbH. In the newly established headquarters we continue to grow with significantly expanded capacities and competencies. This development is the starting point for future perspectives under proven management.
Without our employees, the confidential cooperation with our customers and suppliers and their enthusiasm for our technologies and products, the many small and large successes would not be possible. We would like to express our sincere thanks for this.
This year's Christmas party took place in an atmospheric and relaxed atmosphere. The Christmas tree decorated together created a festive atmosphere and the decoration with light bags could symbolize a bright future in reliability and strength.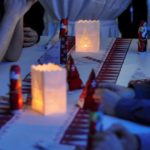 Trees have known it for a long time:
The more they grow, the more light they get.
(Anke Maggauer-Kirsche)



With Christmas greetings, INGENERIC GmbH wishes our employees, customers, suppliers and their families health, happiness and positive impulses in 2020.